ingredients
Raw Sheep's MILK, Salt, Vegetarian Coagulant
FAQs
As a general rule of thumb, we would recommend roughly between 100 and 150 grams per person for after dinner, and a bit more if cheese is the focus of the meal. If you are buying cheese to serve over a couple of days or as part of a buffet, it is advisable to buy a few larger pieces. This will both look better and keep better than many small bits. To help visualise weights, a good tip is to consider that a regular supermarket pat of butter weighs between 200 and 250 grams. If you are at all unsure please give us a call for some advice.
The best option is to keep your cheese wrapped in its paper within a box in the fridge. This will prevent the cheese from drying out and absorbing other flavours. Your cheese will arrive wrapped in waxed cheese paper, which achieves the best possible balance between maintaining humidity around the cheese and allowing it to breathe. We are happy to provide some free extra cheese paper, just search for "cheese paper" and add it to your basket. We don't recommend cling film or foil as it can cause the cheese to sweat which will negatively affect the flavour.

Herefordshire Frier
A halloumi-style cheese, with all the qualities you'd expect of the popular cooking cheese: chewy and salty with a golden crust when fried, but with a rounded depth of flavour that is both slightly fermented and pleasantly fresh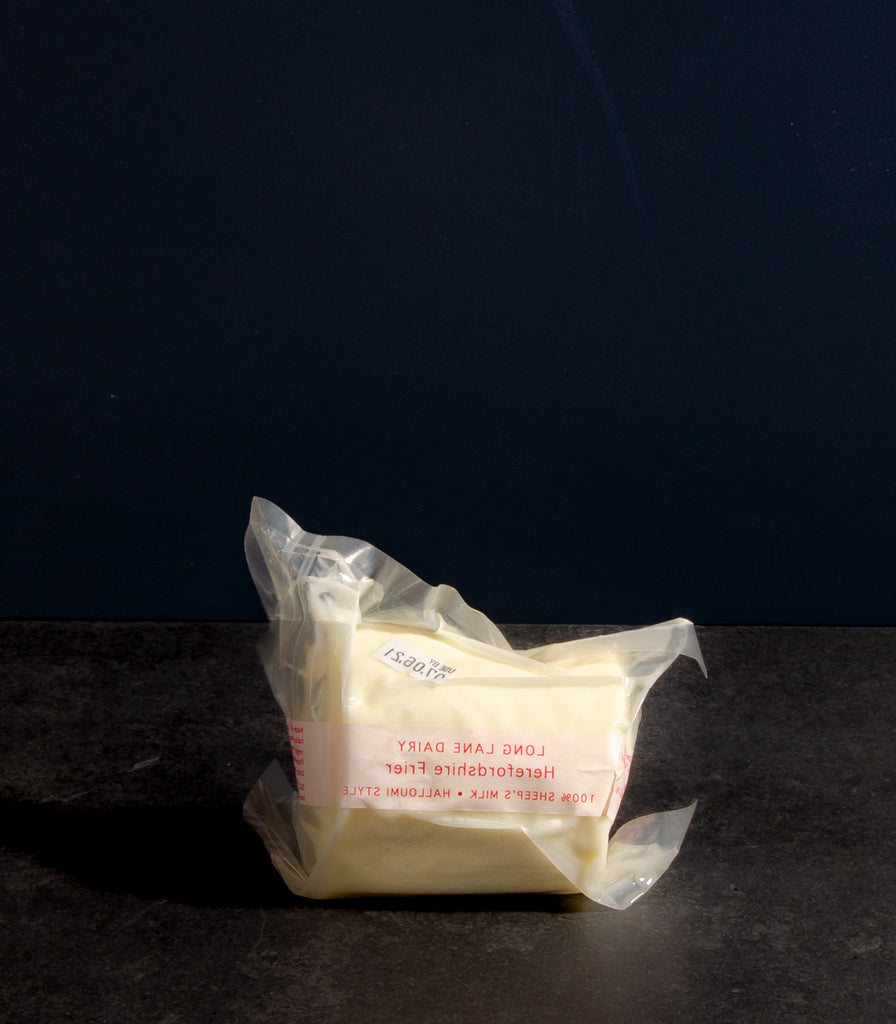 PDO regulations meant cheesemaker Katie couldn't use the halloumi name, so she contacted Bill Oglethorpe, the maker of Bermondsey Frier, and asked if he could take a leaf out of his book and make a Frier for Herefordshire – a suggestion to which he readily agreed.
ingredients
Raw Sheep's MILK, Salt, Vegetarian Coagulant
background
Katie Cordle made cheese at Neal's Yard Creamery for several years before setting up her own tiny dairy, Long Lane, in early 2021. Based in Herefordshire, Katie is passionate about sourcing the best possible sheep's milk to make her products, locating small-scale sheep farms with extensive and environmentally-interesting practices and then working with them to optimise their production for milk that's adapted to cheesemaking.
our work with this product
Herefordshire Frier is made by Katie Cordle, a cheesemaker for whom small scale is an understatement. Together with her yoghurt, sheep's curd and Long Lane Ricotta, the Frier is made in a micro-dairy in Katie's front garden, and Neal's Yard Dairy is one of her only wholesale customers. The lack of maturing space means Katie is limited to cheese she can make quickly and sell directly, so the halloumi style made sense, not least because she has always enjoyed eating it.
pairing suggestion
Fry until golden and serve a top salads, roasted vegetables or burgers.